Join us as we share fun crafts and activities, fascinating Fraser facts, and virtual tours of some of our exhibits at the Centre!
Scroll down the page to find all our activities. We're so excited to connect with you!
Friday, May 29th: The Many Uses of the Fraser!
We rely on the Fraser River in so many ways. Its waters provide us with food and fun from fishing, an ideal trade route for goods and services to and from the coast, and picturesque landscapes! Discover some of the ways we rely on the Fraser today in our River Use Word Search! There's some tricky words to find here, so be sure to look up, down, and side to side. Good luck!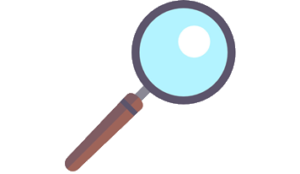 Saturday, May 23rd: The Mighty Fraser!
A trickle of snow-melt in the Rockies. A torrent surging through Hell's Gate. A majestic waterway in the Lower Mainland. The Fraser River is all of these and more!
Discover the Fraser today in our River Basin Graphic. Click on the page you'd like to see and a larger version will open up for you.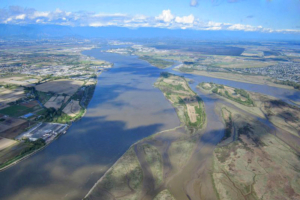 Page 1: The Fraser's Beginning
The Fraser River begins its journey as a small trickle of meltwater near Fraser Pass, in the Rocky Mountains. Take a look and learn more about the river's source!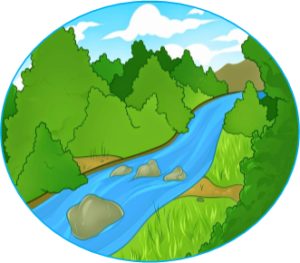 Page 2: The Fraser Canyon
As the river travels through BC, it cuts a deep gorge through the landscape called the Fraser Canyon, and flows faster as it grows larger!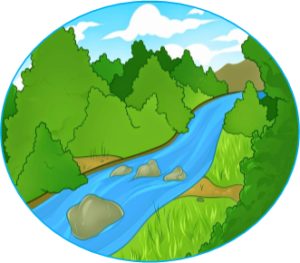 Page 3: The Estuary
As the river enters the Fraser Valley, it slows down and grows wider, creating a large estuary that flows majestically into the Salish Sea.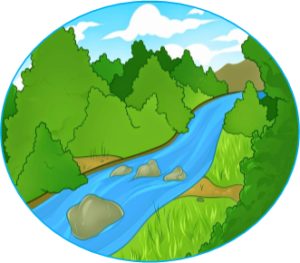 Friday, May 22nd: Click* For Kids: Photos of the Fraser!
From the Rocky Mountains to the Salish Sea, the Fraser River is home to almost 3 million people, each with an unique view of the river. '*Click* Photos of the Fraser' brings together a collection of these points of view in an annual display of photographs submitted by our community. Today, it's your turn!
We invite you to share your best, coolest, most beautiful photos of the Fraser River, or go out and safely take some new ones. The more, the better!
Check out some of the entries we feature in our exhibit for inspiration, and share yours with #FraserPhotos so we can find and feature yours!
Thank you to Alexander Fontaine, Dianne Reid, and Stephen LaRocca for their contributions to this gallery!
Tuesday, May 19th: The Fraser's Journey!
The Fraser River cuts an impressive path through BC's landscape, but down in the Lower Fraser it's easy to forget that further upriver the Fraser looks much, much different!
From a trickle of snow-melt in the Rockies, to a surge of raging rapids in the Fraser Canyon, and to the wide, slow-moving Estuary emptying into the Salish Sea, the Fraser River undergoes a lot of change on its 1,375km journey.
Enjoy the natural beauty of BC's most famous river from the comfort of your own homes, check on our social media channels for the opportunity to share your own photos of the Fraser with us!
Tuesday, May 12th: Ghostly Sturgeon!
May 11 – 17 is Museums Week! All across the world, museums are reaching out to their communities and celebrating the important work they do every day.
We'd like to do the same by featuring one of the Fraser's most famous – and elusive – residents, the White Sturgeon! Having remained largely unchanged since the time of the dinosaurs, these 'Ghosts of the Fraser' spend most of their days on the riverbed hidden from sight, which is impressive considering they can grow up to six metres long!
Bring these shy giants home with you today with our Sturgeon Colouring Sheets! Click to open larger versions to print!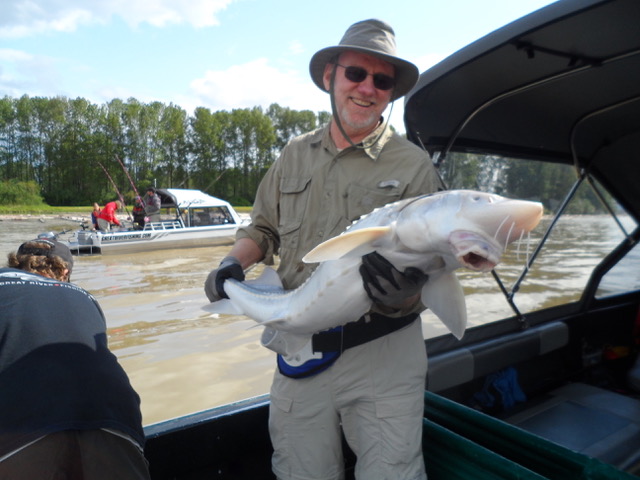 Sat, May 9th: Migratory Bird Crafts!
Happy World Migratory Bird Day! All Spring, the Fraser River Basin becomes an important rest-stop for migratory birds, many of which have flown thousands of kilometres as they travel North for the Summer!
To celebrate the occasion, we've prepared some bird-friendly craft activities that the whole family can enjoy!
Share your work with us on social media! We'd love to see what you create!
Stay safe, and happy crafting!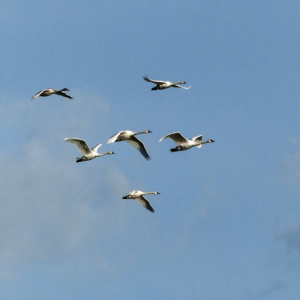 Home-made Bird Feeders!
Springtime means that both resident and migratory birds are on the lookout for food to feed themselves, and we can give them a hand! Follow along as our staff demonstrate how to easily craft a nutritious snack that our feathered friends will find irresistible!
Paper Bird Mobiles
Capture the beauty of birds in flight with our paper bird mobiles! Follow along with our handy guide as we demonstrate how to create these simple and eye-catching crafts that are easy to build and fun to decorate. Let your creativity take wing!
Mon, May 4th: Migratory Birds and the Fraser Estuary
Spring is a very important time of year for the birds of the Fraser River Basin. the river's estuary becomes a temporary home to thousands of migratory birds travelling up the Pacific Flyway to Summer nesting sites!
Start the week with a warm welcome for our feathered friends with our estuary colouring sheet! Simply click on it and a larger version will open in a new window. Share your art online with #FraserRiver and we'll feature our favorites!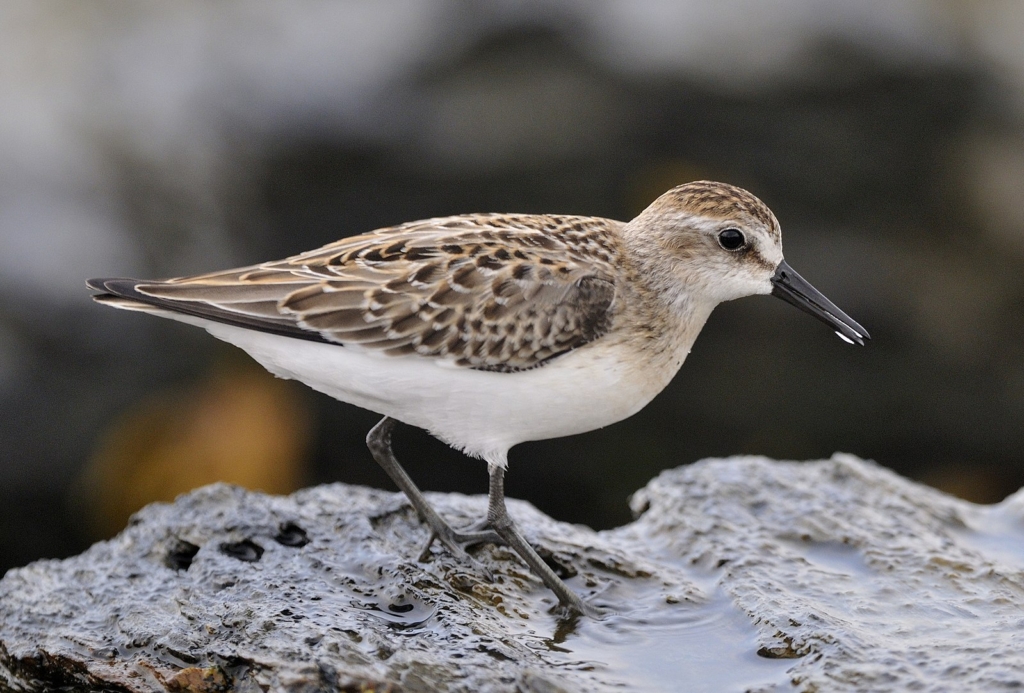 Thurs, April 30th: Scintillating Salmon!
Few inhabitants of the Fraser are as important as the world-famous Pacific Salmon!
Learn more about these fish today today with our Salmon Graphic! Click on the page you'd like to see and a larger version will open up for you.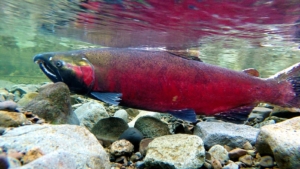 Page 1: Spot the Differences
There are seven different species of Pacific Salmon that migrate up the Fraser River every year, and all have a very unique appearance!
Take a look and see how many differences you can spot!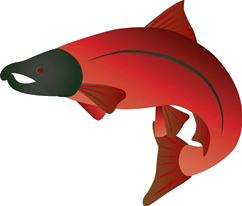 Page 2: Salmon Life-cycle
Pacific Salmon go through a lot of change form egg to adult, and each stage gives them a unique appearance, size, and challenges!
Check out the life-stages of salmon here.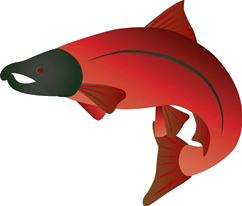 Page 3: Keystone Species
Ever heard of the term 'Keystone Species' before? They're a type of animal or plant that is extremely important for the health and stability of their ecosystems.
Without them, the whole system would be in very big trouble, and may even collapse!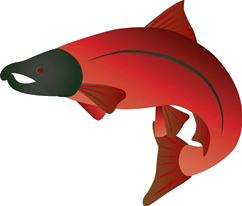 Mon, April 27th: Terrific Tugboats!
Explore the Fraser's Tugboats for yourself with our Tugboat Fact File and Colouring Sheet!
Share your beautiful boats with us! Post a picture of your completed colouring sheet on Facebook, Twitter, or Instagram and tag us @frdc so we can see and celebrate your hard work!