SUMMER DISCOVERY DAYS AT THE FRDC!
The Fraser River Discovery Centre's health and safety protocols are based on recommendations from the BC Health Authority.
Click HERE to read our Visitor Code of Conduct.
This summer, the FRDC is pleased to offer extra programming during long weekends in Summer Discovery Days!
These fun, family-friendly activities will help us connect to the Fraser River! There's so much to see and discover on these long summer days, and we hope you'll join us!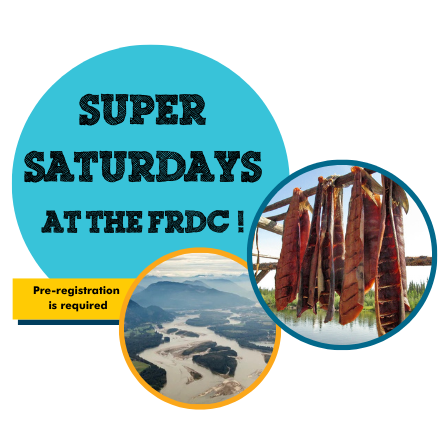 September 3rd – 5th: Color the Current!
Colors can help us understand and visualize the way things change; from the seasonal shift of summer flowers to fall hues, to the eras and events that can be seen in the layers beneath our feet.
Join us for the last Summer Discovery Days of the year to investigate why salmon turn red, or how the Fraser River becomes so brown!
WHAT:
Learn about the hidden layers beneath your feet by making a

stratigraphy model!

 

Create your own

salmon artwork

using simple print making techniques! 

 

 

Investigate why the Fraser River water looks so different from the

Strait of Georgia it empties into

in our

density demonstration!

 

 
Pre-registration is recommended for this activity. Book your visit to the FRDC here. Join us to celebrate the Fraser River!
WHEN:
Saturday, September 3rd

, 10:00am – 4:00pm

 

Sunday, September 4th

, 10:00am – 4:00pm

 

Monday, September 5th

, 10:00am-4:00pm 
WHERE: Fraser River Discovery Centre, 788 Quayside Drive, New Westminster, BC
COST: Includes admission to the Discovery Centre. Specific costs are listed below:
Family Ticket ($15.00 each) – for 2 adults and up to 4 children
Adult Ticket ($6.00) – Adult 19 and older
Senior Ticket ($5.00) – Senior 65 and older
Student Ticket ($5.00) – Student ID required
Child ticket ($3.00) – children aged 3-12
Children 2 and under register for free.
COVID-19 Safety:
Masks are required for all visitors over the age of five (5) years.
Caretakers are asked to remain with their children for the duration of their visit.