Seafood For Thought
August 2014 – June 2017
Seafood for Thought explored contemporary issues regarding sustainable fishing and helped visitors make seafood choices that benefit our waterways. Human activity on land and industrial fishing has destroyed marine ecosystems and driven some species to extinction. Scientists have warned that if we do not change the way we fish, we could run out of seafood by 2048. At the same time, we are encouraged to eat seafood for its health benefits. A growing world population will lead to increased demand for seafood.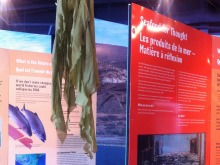 Plants Alive! Native Plants of the Fraser River Basin
April 2011 – August 2014
Plants Alive! showcased the diverse native plant life in the Fraser River Basin, highlighted the importance of native plants to our ecosystem, and encouraged visitors to incorporate native plants into their communities and gardens.

Aliens Among Us
September 2013 – July 2014
Presented by the 
Royal BC Museum
, this exhibit highlighted BC's recent plant and animal arrivals. Visitors had the chance to learn about how they get here, their impact on native ecosystems, and what steps we can take to help protect BC's biodiversity.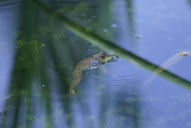 Brewer's Gold
October 2010 – October 2011
Brewer's Gold interwove the history and science of hop growing with stories of the people who made this industry one of the largest agricultural employers in British Columbia. This exhibition, organized and circulated by the
Chilliwack Museum and Archives
, used artifacts, historical photographs, and graphic panels to illustrate and celebrate the lives that were influenced, and the culture created, by this now vanished industry. Sponsored by
Wesgroup
.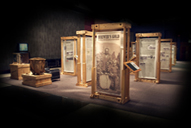 The Ripple Effect
February 2010 – March 2011
This exhibit aimed to be a catalyst for positive change just as Fin Donnelly's Fraser River swims in 1995 and 2000 were. Through an in-depth look at Fin's swims and the Fraser River, this exhibit encouraged visitors to make one change in their own lives that will make a difference to the river. Sponsored by
Rivers Institute at BCIT, City of New Westminster.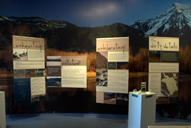 Build-a-Boat: Wooden Boat Building on the Fraser
February 2010 – September 2010
This exhibit focuses on the importance of the boat industry, specifically boat construction, on the Fraser River. With the leadership of a coach from the Oarlock and Sail Wooden Boat Club, visitors are invited to develop their woodworking skills in a number of interactive stations. The highlight is to help build a wooden boat inside the Discovery Centre. Sponsored by 
City of New Westminster, Douglas College, RBC
.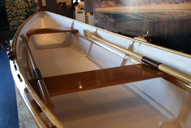 Birds of Prey
March 2009 – January 2010
24 cases displayed over 40 birds of prey which inhabit the Fraser Basin. Each case highlighted one species of bird and each included an interpretive panel with a map showing the range of habitation.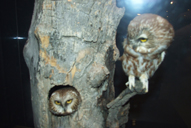 Memory, Imagination, Time: New Westminster 150
May 2009 – December 2009
As New Westminster celebrated 150 years, this exhibit drew attention to the historic, fundamental importance of the Fraser River to the development of the area which is now New Westminster.