VOLUNTEER SPOTLIGHT
"Not only has volunteering at the FRDC taught me a lot about working with kids, I have so much fun doing it!"
– Alyssah, volunteer since 2016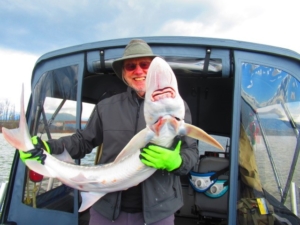 "About ten years ago, I walked into FRDC and asked, "What's this?" Dana, who was the Education Coordinator at the time, gave me a tour, invited me to sit in on a program and a week later I was leading a program on the sturgeon.We didn't have a lot of school groups or the variety of programs we do now. But I saw it as a way, for a retired educator, to keep my attention in the action to a small degree (& no discipline issues!!!)
"But, as they say, "In giving you receive." I was motivated to find out more. …. more about the Fraser, more about BC History, more about of First Nations peoples, the canneries, the politics of the economy, etc. etc. I read, and still read, any book I can get my hands on related to the History of BC and in particular the Fraser. (I think I've read all the books we have at FRDC.)
"I love giving walking tours along the Quay; I love giving leadership in the school programs, and I've come to love all the staff who have come and gone since my first days. We've had a lot of fun together. And, I particularly loved being part of that YouTube expedition where we filmed the sturgeon."
– Mike, volunteer since 2008
Get involved in your environment and local community by volunteering with the Fraser River Discovery Centre!
The Fraser River Discovery Centre volunteer team is dedicated to acting as a voice of the Fraser River through education programs, public engagement, and outreach events. Volunteers play a key role in the Fraser River Discovery Centre's ability to offer exciting and engaging programs to individuals, families, and students in the community.
Why volunteer with the FRDC:
Work with experienced education staff and like-minded volunteers.
Learn about the Fraser River through training and development opportunities.
Complimentary admission to the centre and other discounts and perks.
Ongoing training opportunities and invitations to special volunteer events.
Enhance your resume!
Explore teaching and instruction as a career path.
Current Volunteer Opportunities:
School Program Leader: help students experiment and discover the Fraser River through hands-on activities!
Public Programs and Special Events: lead visitors through crafts, games or activities at our weekend programs and events!
VR Experience Facilitator: Assist visitors with VR headsets and introduce them to the life of a salmon in urban waters with UninterruptedVR!
Marketing Coordinator: Create posts, share content, and most importantly, interact with our online community on a regular basis.
How do I apply?
Check out the current opportunities and find out which one suits you best!
Submit your volunteer application.
You will be contacted by our volunteer coordinator to set up a face-to-face interview.
Sign up for programs and begin your role on our fantastic volunteer team!
Am I Eligible?
Must be 15 years of age or older
Screening and training: you must be able to participate in an in-person interview and attend an orientation
Must be able to pass a criminal record check
If you have any questions, please email volunteer@fraserriverdiscovery.org