The Fraser River Discovery Centre's health and safety protocols are based on recommendations from the BC Health Authority.
Click HERE to read our Visitor Code of Conduct.
The purpose of the Fraser River Dialogues is to engage interested parties on Fraser River issues and opportunities:
from a fact-based, three pillar perspective that is apolitical and non-ideological;
through an approach to dialogue and information exchange that is open and positive; and
in an environment that is respectful and safe for all questions, comments and opinions.
The Dialogues use a "fire-side" chat format, rather than as a traditional presentation. The FRDC Director of External Relations and Development has a conversation with our guests, who speak on the topic from an environmental, socio-cultural and/or economic perspective. That is followed by a facilitated Q&A. Previous dialogues include discussions on the Salish Sea Survival Project (with Pacific Salmon Foundation CEO Dr. Brian Riddell) and Fraser River Trade (with Doug Mills from the Vancouver Fraser Port Authority).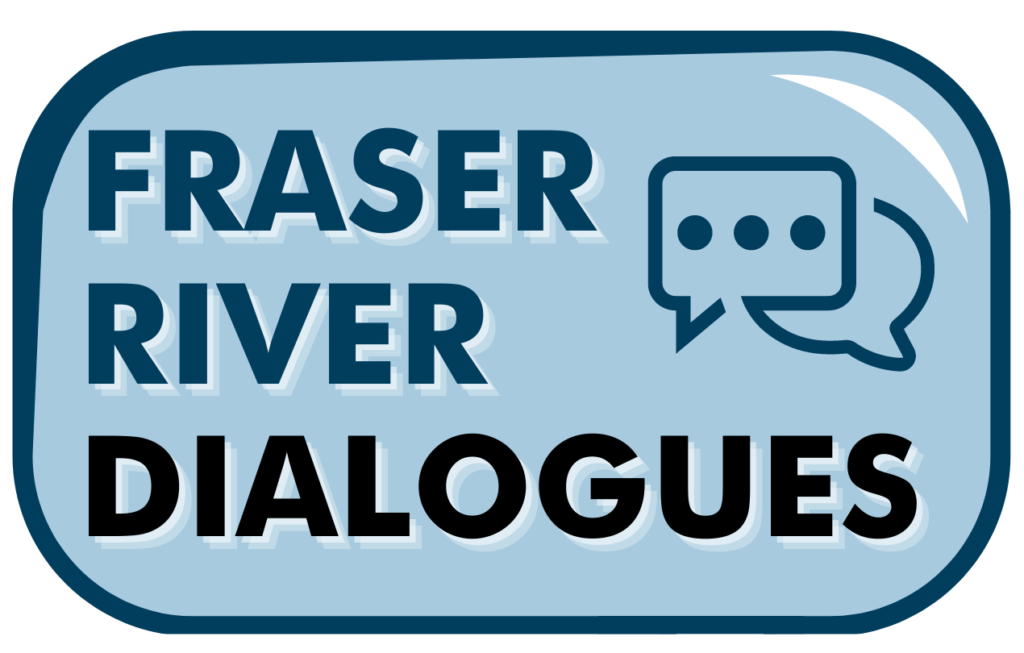 Monuments of the Fraser River – A Virtual Fraser River Dialogue
Tuesday, January 25th, 7:00pm – 8:30pm
We're very happy to present the recording of our January 25th Fraser River Dialogues on Monumentalism in New Westminster! Please see below for the full recording. You can also access sit on our YouTube channel HERE
Panelists for our January presentation included:
Elder Larry Grant
Larry Grant, Musqueam Elder, was born and raised in Musqueam traditional territory by a traditional hən̓q̓əmin̓əm̓ speaking Musqueam family. Elder Grant is an Adjunct Professor in the First Nations and Endangered Languages Program and a consultant for the Musqueam Language and Culture Department, both at the University of British Columbia.
Kamala Todd
Kamala Todd is a Metis-Cree community planner, educator, curator and filmmaker who was born and raised in the beautiful lands of the hən̓q̓əmin̓əm̓ and Skwxwú7mesh-speaking people (also known as Vancouver). She has a master's degree in geography (UBC) and is the City of Vancouver's first Indigenous arts and culture planner.
Kirsten McAllister
Kirsten Emiko McAllister is a Professor in the School of Communication at Simon Fraser University. As a third generation Japanese Canadian she has worked closely with members of her community to examine their use of different media to remember the places they lived before 1942 across BC's lower mainland followed by the internment camps where the Canadian government rounded them up as part of a larger plan to remove "all people of Japanese descent" from Canada in the 1940s.
Madelyn Prevost
Madelyn is a Doctoral Candidate at Simon Fraser University studying relationships to place and placemaking activities. Since 2019, she has been working as a Research Assistant on a collaborative project between Simon Fraser University and the New Westminster Museum and Archives on decolonizing New West's city assets.
—
Many thanks to the New West Museum and Archives for their help in organizing this discussion, and to the Dennis & Phyllis Washington Foundation for their support of our programs. Events like these help the FRDC in our goal of developing a Place of Learning about the Indigenous Heritage and Teachings of the Fraser River (xʷtatəl̕ləm ʔə k̓ʷ šxʷəlməxʷaʔɬ syəθ ʔiʔ snəw̓eyəɬ ʔi ʔə tə ʔi n̓a stal̕əw̓)