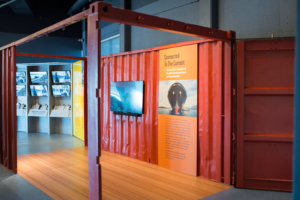 Located on the boardwalk at Westminster Quay and steps away from downtown New Westminster, the Fraser River Discovery Centre (FRDC) offers a creative and unique venue for a wide variety of special events. The atmosphere is accentuated by the exhibits currently showing on both floors, and with panoramic views of the mighty Fraser River, the FRDC is an ideal location for social events, business meetings, ceremonies, workshops, and standup receptions.
The FRDC is a registered charity. Proceeds from rentals help support the FRDC's work in connecting communities in the discovery and celebration of the living, working Fraser River and in presenting the stories of the Fraser River and their contributions to the life, history, and future of British Columbia.
Highlights:
Bright, naturally lit, and air-conditioned, with river views
Wireless internet available throughout the building
Wheelchair accessible
Steps from New Westminster SkyTrain Station
Ample nearby public pay parking
For the Facility Rental Information & Agreement, click here.