Celebrate your child's birthday at the Fraser River Discovery Centre!
Let us host your next birthday party and celebrate your child's special day in a unique and fun setting. You bring the kids, food, and gifts – we'll take care of the rest!
Click HERE to read our Visitor Code of Conduct.
TESTIMONIAL
The "It's O-Fish-Al" party theme and decorations were very nice and everyone could tell the kids loved the pre-organized games, arts and crafts and of course the entertaining puppet show!! Mom's and Dad's alike asked us how we found such a great location for a birthday party.
– Salim and Shaina Adatia
The facilitators managed to keep 12 boys ages 4 to 10 years, with 4 on the autism spectrum, engaged throughout. All of them had the ability to talk to the kids at an appropriate level yet still keep it informative and interesting. The parents of the children were all impressed by your facility as well. I will be recommending the FRDC to my friends from around the lower mainland (and have already). You are another reason why I am proud to live in New Westminster.
– Diane Bodnar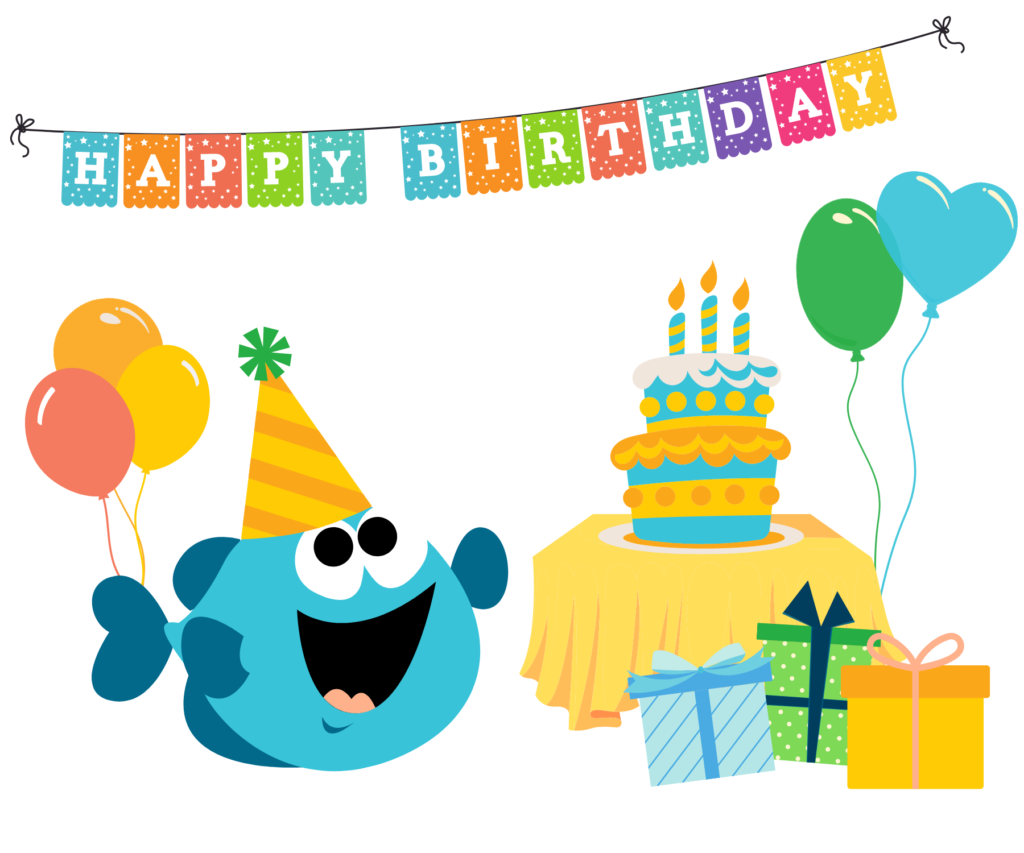 Included:
45 minutes to 1 hour of guided activities
2 hours (total) use of pre-decorated party room
Admission to the Centre for the day
Use of FRDC fridge if required (space limited)
Optional:
Green Goodie Bags. Each goodie bag is chock-full of games, toys, and crafts, all made from eco-friendly and recyclable materials. Only $5 per bag!
It's O-Fish-Al
There's nothing fishy about how much fun this party will be! Kids will make colorful crafts, play exciting games, and hear a story all about an adventurous fish, as they celebrate in style!
Age 3-5
Born To Rock! (NEW! Being offered January 2023) 
This party will rock you! Kids will make a colorful craft, play exciting games, and learn how wonderous geology can be!
Age 5-7
Can You Dig It?
This fun, hands-on, birthday party will have kids uncovering artifacts, solving clues, playing games, and discovering the location of some hidden treasure.
Age 7-11
COVID-19 Policy
Masks are recommended for everyone attending the party.
Please wash or sanitize your hands before and after eating.
We are continuing to assess risk for our staff and visitors, so we will adjust as conditions change.
General Birthday Party Information
Birthday parties are offered Saturdays and Sundays at 10:30 – 12:30 or 1:30 – 3:30.
Birthday parties are not offered during the months of July and August.
Cost is $180 (+GST) for up to 10 children, $10 for each additional child up to 15
FRDC Members: $162 (+GST) for up to 10 children, $9 for each additional child up to 15
Maximum party size is 15 children
Maximum one adult chaperone per child, excluding the birthday child
Booking requests must be made at least three weeks in advance of the desired party date
Additional children may be added in person on the day of the party if total number of children remains under 15
Optional: Green Goodie Bags are $5 / bag
Additional Goodie Bags may be requested at least 48hrs ahead of event and paid for at event
Transportation and parking not included