WINTER DISCOVERY DAYS AT THE FRDC!
We're open daily from December 17th – January 2nd, with the exception of closures on o

n December 25

th

, 26

th

, and January 1

st

.
Drop by and discover the Fraser this winter break!
Click HERE to read our Visitor Code of Conduct.
Winter has arrived at the Fraser River, and we invite you to celebrate the season at the FRDC's Winter Discovery Days! Throughout December 17 – January 2, head to the Fraser River Discovery Centre for family-friendly fun that explores some of the wondrous changes this season brings. Step out of the cold and into the warmth of curiosity!
There will be self-guided activities throughout the building, a facilitated activity from 10am-12pm, and storytime from 1pm-3pm:
Daily    

Drop in for a seasonal tale and a craft with

storytime

every day between 1pm-3pm. 

 

Discover

animal adaptations

to the cold by making your own den or finding a place to camouflage around the building!

 

Play our

jumbo board game

to learn about local ecosystems in the wintertime. 

December 17th – 24th

: Snowy Science

 –

L

earn

how

snowflakes

form

and model

the surprising array of snowflake

shapes

. Then see if you can figure out w

hich critters have

been tromping through

the snow!

December 27th – January 2nd

: Hummingbird Habitats

 –

How do hummingbirds survive the winter? Build a hummingbird habitat and learn how to help these

flashy

fliers through the cold season.
Please note that the Centre is closed on Dec 25th, 26th, and Jan 1st.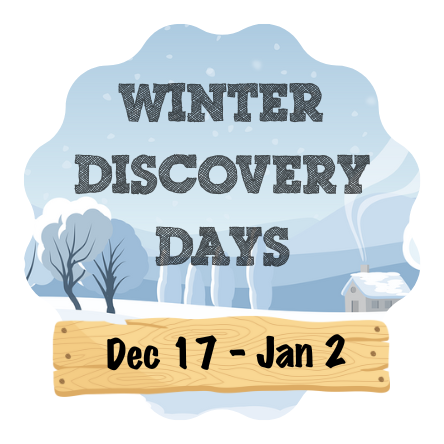 WHEN: December 17th – January 2nd
Self-guided activities: 10:00am – 4:00pm

 

Facilitated activities (Snowy Science, Hummingbird Habitats): 10:00am – 12:00pm

 

Storytime: 1:00pm – 3:00pm
WHERE: Fraser River Discovery Centre – 788 Quayside Drive, New Westminster, BC
COST: Includes admission to the Discovery Centre. Admission is free for members. Specific costs are listed below: 
Family Registration ($15.00 each) – covers 2 adults and up to 4 children
Adult Registration ($6.00) – Adults 19 and older
Senior Registration ($5.00) – Seniors 65 and older
Student Registration ($5.00) – Student ID required
Child Registration ($3.00) – Children aged 3-12

Children 2 and under register for free.
COVID-19 Safety:
Masks are required for all participants over five (5).

 

While visiting the Centre, please follow physical distancing rules wherever possible.

 

Caretakers are asked to remain with their children for the duration of their visit.