TESTIMONIAL
My grade 5/6 class enjoyed the exploration and the lessons included raised an awareness of the Fraser as 'their river, their home' I believe that this project has inspired them to be stewards of not only the Fraser but also all waters of the world.
– Grade 5/6 teacher Richmond
The 'My River My Home Teachers Resource Package' offers an excellent tool to support school based education on fresh water sustainability in BC. The multi-disciplinary topics make insightful connections between land use, human activities and watershed sustainability.
– Real Estate Foundation of BC (Leanne Sexsmith, Grants Manager, Jack Wong, CEO.)
My River My Home: A free resource kit about the Fraser River for educators
Help students discover the Fraser River through creative, hands-on activities designed with British Columbia's school curriculum in mind.
Download our free My River, My Home Resource Kit for lesson plans, activities and background information related to the ecosystems, cultures and industries connected to the Fraser River. The kit aligns with our fully guided education programs, with many activities that are suitable to extend learning before or after field trips to the Fraser River Discovery Centre.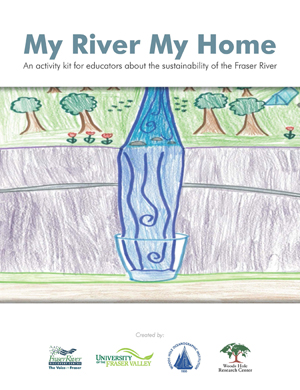 Complementing the award winning "My River My Home" exhibit at the Fraser River Discovery Centre in New Westminster, the free 100-page, user-friendly guide:
Includes 25 lesson plans and background information for educators
Challenges students to see the Fraser River holistically, exploring concepts of environmental, cultural and economic sustainability through creative activities, writing prompts and hands-on activities
Activities meet BC Ministry of Education Curriculum requirements for grades K-9 and address BC's new cross-curricular competencies (critical thinking, personal and social awareness and responsibility, and communication skills).
The kit is divided into 5 sections that can be explored independently or used to create an inquiry unit about the Fraser River:
Connect: students are asked to activate previous knowledge and explore the question "What is my connection to the Fraser River?"
Develop Knowledge and Explore Sustainability: students explore the cultural, economic, and environmental sustainability of the Fraser River.
Investigate Water Quality: introduces water quality and outlines the Taking the Pulse of the Fraser program available at the Discovery Centre.
Putting the Fraser on the Global Map: students study and compare the cultures, environment, and art, and water quality data from the Fraser, Amazon, Congo, Ganges-Brahmaputra, and Kolyma rivers.
What's Next: The final section encourages students to become active citizens in water quality issues.
For suggestions on how to use or modify an activity in the kit, or to book a professional development workshop for educators on using the kit with your students, please contact 
programs@fraserriverdiscovery.org
.