The Fraser River Discovery Centre's health and safety protocols are based on recommendations from the BC Health Authority.
Click HERE to read our Visitor Code of Conduct.
MASK POLICY
Please note that masks are required for all program participants. We are a small team of staff who interact with a high volume of daily visitors. Please help keep us safe by respecting our mask policy.
Super Saturdays is a monthly public program geared towards families. There are lots of activities that explore different features of the Fraser River, from its booming economy to its diverse ecosystem!
Previous programs include a deep dive into the Fraser's powerful tugboats, the secret lives of the river's 'ghostly' White sturgeon, and the opportunity to make your very own fishy friends using simple craft supplies! Check below to see upcoming events. We can't wait to connect with you!
JULY 23RD: FLOODING ON THE FRASER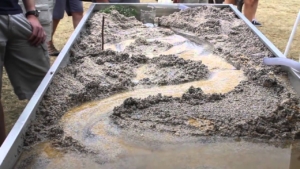 Flooding has always been a part of life along the Fraser River, but climate change is causing these floods to be more unpredictable and more dangerous. There are things we can do, though! In the short-term, we can design more climate-resilient infrastructures, and in the long-term we can reduce or even stop our greenhouse gas emissions.  
Join us as we discover how to predict and prepare for extreme weather events! We'll model river processes on a stream table, and try to design more resilient infrastructure, like buildings, bridges, and roads. 
Model how a river shapes the land using a stream table

 

Explore traditional and industrial methods of flood risk management

 

Design flood-smart infrastructure 

 
PLEASE NOTE: Because participants will be directly using the stream table, which will involve running water and sediment, this workshop is aimed at families with children over the age of 6, and will require full parental involvement.
COVID-19 Safety protocols are in place, so please register in advance. Click here to register!

—
WHEN: Saturday July 23rd, 10:00 – 4:00. Visitors may select a 1-hour time slot from a list of available options. Drop-ins are available but priority will be given to pre-booked groups.
WHERE: Fraser River Discovery Centre – 788 Quayside Drive, New Westminster
WHO: While everyone is welcome, this workshop is aimed at families with children aged six (6) and older.
COST: Includes admission to the Discovery Centre. Specific costs are listed below:
Family Ticket ($15.00 each) – for 2 adults and up to 3 children
Adult Ticket ($6.00) – Adult 19 and older
Senior Ticket ($5.00) – Senior 65 and older
Student Ticket ($5.00) – Student ID required
Child ticket ($3.00) – children aged 3-12
Children 2 and under register for free.
COVID-19 Safety:
Masks are required for all participants over five (5).
While visiting the Centre, please follow physical distancing rules wherever possible.
Caretakers are asked to remain with their children for the duration of their visit.