We are open Wed – Sat, 10AM-4PM. Drop by and discover the Fraser!
The Fraser River Discovery Centre's health and safety protocols are based on recommendations from the BC Health Authority.
Click HERE to read our Visitor Code of Conduct.
Faces of the Fraser is an informal opportunity for the community to engage with people on the river to learn more about the role played by the mighty Fraser in our daily lives.
Speakers do a presentation on their topic, followed by a casual Q&A session with the audience. Previous speakers have included local historian Archie Miller, wildlife photographer Lessa, Fraser River Pilot Mike Armstrong and representatives from the Floating Home Association of BC.
The Fraser River Discovery Centre hosts and puts on a number of events each year, all designed to promote understanding and discussion of the living, working Fraser River.
Please note that in light of the ongoing COVID-19 pandemic, all Faces of the Fraser events will be held digitally until further notice. Thank you for your patience and understanding as we navigate these new circumstances together!
Thursday, July 15th @ 7:00PM: Sadie Caron, Fraser Riverkeeper
In July, the FRDC is pleased to host Sadie Caron, Program Manager of Fraser Riverkeeper, for a special online presentation on some of the major forms of pollution that impact the Fraser.
Fraser Riverkeeper is the Vancouver subsidiary of the national charity Swim Drink Fish. Sadie's work connects people with their local river systems and encourages them to consider the ways they could safeguard them. Sadie has a background in environmental education and communication with a bachelor's degree from McGill University in Interdisciplinary Environmental Studies and experience in environmental institutions across the country.
Fraser Riverkeeper has a long history of fighting to protect the Fraser River, and on July 15th at 7:00pm Sadie will be presenting on two major forms of pollution that threaten the health of the river, its wildlife, and recreation: bacterial contamination and illegal dumping. Sadie's presentation will discuss these sources of pollution, where they come from, and what we can do to help protect the river.
She will also be sharing information about Fraser Riverkeeper's annual Fraser Valley Cleanup, one of the largest single-day cleanup events in North America and a fantastic opportunity to give back to this amazing river!
This Zoom presentation will conclude with a Q&A session. We hope you will join us!
Registration is by donation. Register HERE.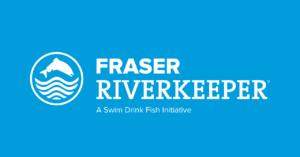 As a non-profit charitable organization, the Fraser River Discovery Centre relies on support from community members like yourselves to develop exhibits and programs that give voice to the stories of the Fraser River. Please consider making a donation to the Discovery Centre HERE, or in-person during your next visit. Thank you!