The Fraser River Discovery Centre hosts and puts on a number of events each year, all designed to promote understanding and discussion of the living, working Fraser River.
Upcoming Events: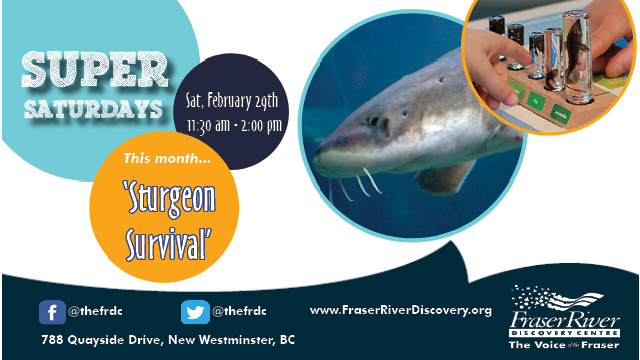 Super Saturdays – 'Sturgeon Survival!'
---
Date: Saturday, February 29th, 2020, 11:30am – 2:00pm
Where: Fraser River Discovery Centre
Cost: Included with the price of admission
Taking place on the last Saturday of every month, Super Saturdays is a series of public programs geared towards family friendly experiences that explore different features of the Fraser River, from its booming industry to its diverse ecosystem.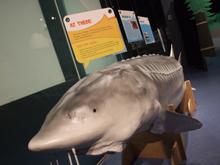 Think you have what it takes to survive the Fraser River as a Sturgeon? Our resident 'Ghosts of the Fraser' have to go through a lot of dangers if they want to grow up, from hungry predators like Salmon and Eulachon to Climate Change heating up their watery home! Join us as we learn about some of these dangers in our fun and engaging "Sturgeon Survival" board game! Everyone is welcome to play – but can you survive!?
Super Saturdays – 'Panning for Gold'
---
Date: Saturday, March 28th, 2020, 10:00am – 4:00pm
Where: Program Room, Fraser River Discovery Centre
Cost: Included with the price of admission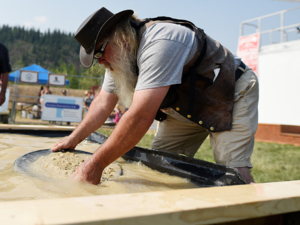 Roll up, roll up my prospectors, and find yourself some gold! Did you know that the Fraser River Gold Rush began at the end of March, over 160 years ago? We'd love for you to join us on Saturday, March 28th, for an experience we can only describe as "pure gold"!
This month we're delighted to welcome back the marvellous Yukon Dan, professional gold panner and winner of the 2019 Yukon Gold Panning Championship! Dan will be giving hands-on presentations on gold panning throughout the day, and will bring with him a huge collection of gold nuggets and flakes, rare coins, minerals such as silver and quartz, and the best gold pan collection you'll ever see! Join us and try your hand as a gold prospector! Who knows? Maybe you'll find some to take home for yourself!
This event is free with admission to the Centre. All ages are welcome!
---
Date: Saturday, April 11th, 2020, 1:00pm – 2:30pm
Where: Program Room, Fraser River Discovery Centre
Cost: Included with the price of admission. Pre-registration is appreciated!
Faces of the Fraser is an informal opportunity for the community to engage with people on the river to learn more about the role played by the mighty Fraser in our daily lives.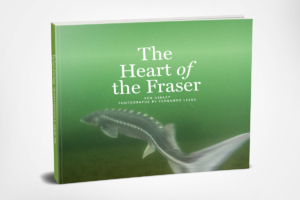 In April, The FRDC invites you to join us for a presentation and talk by photographer and 'Outdoor Storyteller' Fernando Lessa!
Fernando combines his skills as a photographer with a passion for outdoor sports and biology to document the important relationships between humankind and nature. He has worked as a photographer all over the world, including the Amazon Rainforest, Brazilian Savannahs, the Atlantic Ocean, and Canada.
Fernando will be presenting on his project "The Heart of the Fraser", a photography series collected into a book with collaboration from the BCIT Rivers Institute's Ken Ashley. This work is a beautiful homage to the Lower Fraser River, featuring breathtaking views of the river and the life it supports. From majestic views of the Fraser delta to snapshots of Salmon travelling upriver to spawn, his presentation is sure to delight and inspire audiences of all ages!
The session will conclude with a Q&A session with light refreshments. We hope you will join us!
Event attendance is free with admission to the centre, and payment can be made on the day, although pre-registration is appreciated:
You can register on Eventbrite at https://www.eventbrite.ca/e/faces-of-the-fraser-the-heart-of-the-fraser-with-fernando-lessa-tickets-95893968441
For more information on event dates, time, and location, check out our event calendar below: